BIM Modeling Services With Archicad and Revit
BIM modeling services can help when someone thinks of stating a construction project. They rarely think of the collaboration and attention to detail involved in producing a beautifully completed building and how BIM teamwork can help them.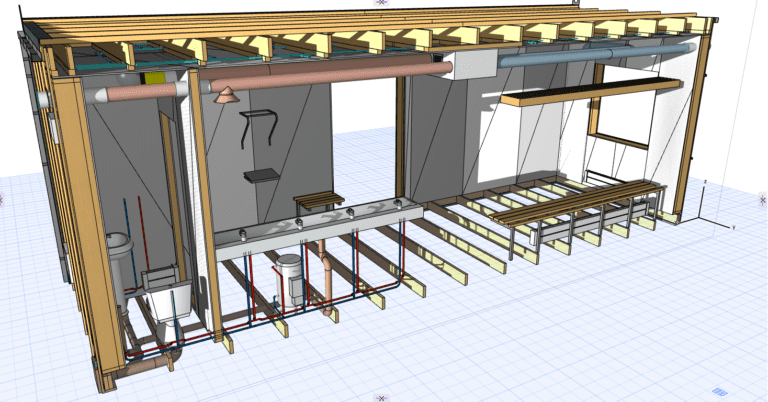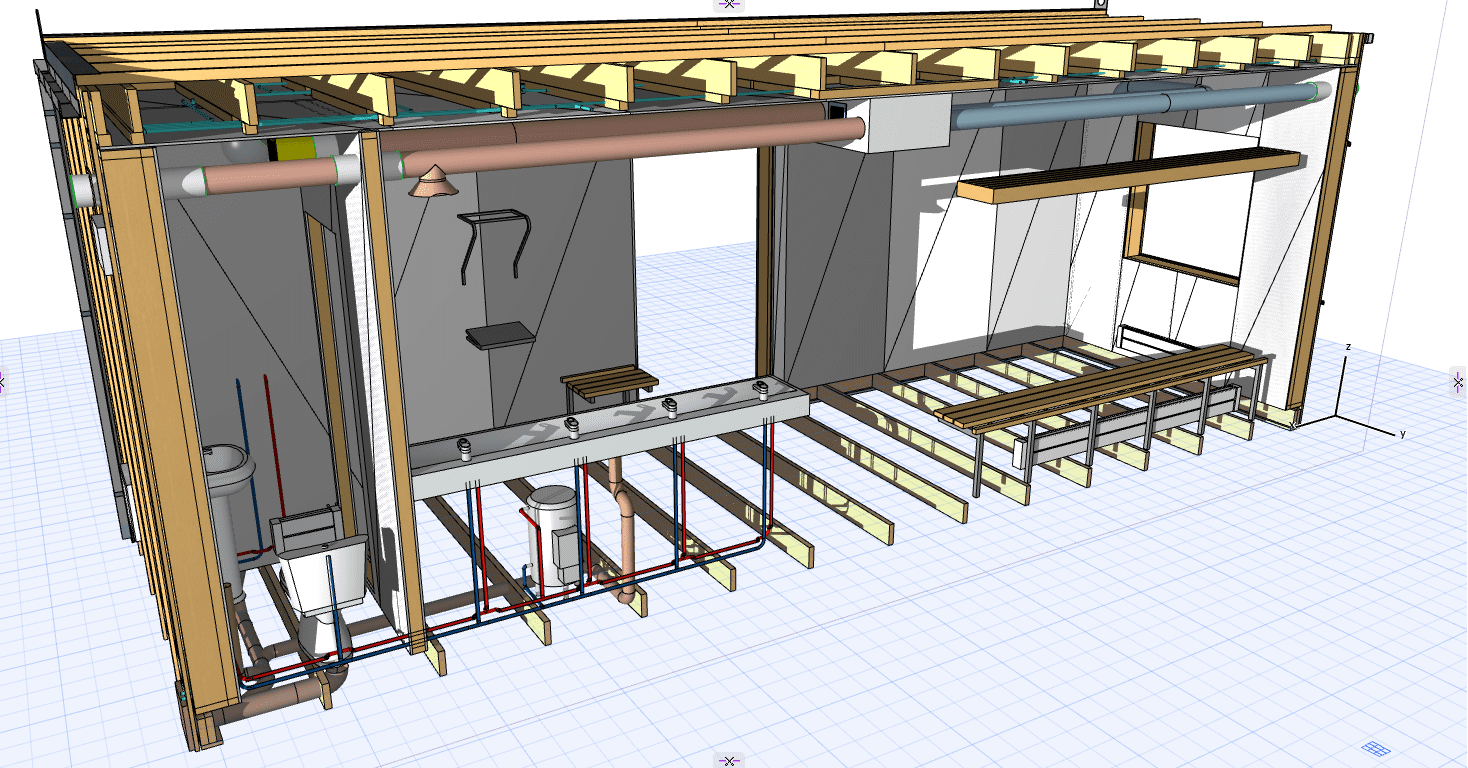 We provide an up-front quotation on the complete project so you'll know the total cost without any surprises. If the project is open-ended then the standard hourly rate will apply. Either way, you are in control of the cost up-front, so no surprises.
---
Webinar with Eric Bobrow about our services and workflow:
---
---
Notably, 'BIM' is a buzzword that's starting to make waves in the construction industry, especially for Architects and Engineers. As a result, you might have heard of the term but may not understand the full impact that it's going to have on all parties involved. So, let's read on to find what BIM services are and how it can upgrade your whole modeling game.
What Should You Know About the BIM Modeling Service?
Building Information Modeling (BIM) is the brain of the modern building industry. Modern software can manage objects' entire life cycle, structure, function, and relationship. Its unique toolset provides a powerful way to represent your entire project with everything in its correct place.
You can then use it to run the whole process, from site planning to construction, commissioning, and hand-over. This comprehensive set of tools brings forward information between different parties by modeling, coordination, collaboration, and data exchange.
Building Information Modelling or BIM is a 3D, dynamic model created by combining information from all disciplines required to fabricate and construct a building. It's the fifth dimension – literally – and it has taken Revit and Archicad offsite BIM modeler to a whole new level.
Using BIM uses an integrated approach while sharing data between architects, structural engineers, MEP engineers, interior designers, contractors, and manufacturers.
In short, BIM is a "whole-life" collaborative process that allows professionals from all disciplines within the building industry to collaborate during the design and construction process.
Wait – Aren't BIM and CAD the Same?
Today, folks use the term 'BIM' almost interchangeably with 'CAD'; however, there is a distinction between both of them.
CAD merely seeks to build architectural models that will then be used for design and later construction.
BIM has taken that into account and provides tools that can be used even before the building is constructed.
CAD
In general, CAD programs are used to create 2-dimensional plans or three-dimensional models representing real-world buildings and objects. CAD software was born as 2D CAD drawings to draw floor plans. Passing years have helped CAD into 3D modeling up-gradation that has its own benefits.
It is the use of 3D modeling for designing buildings technologically. With the help of this technology, designers can anticipate both design and construction-based problems at an early stage.
BIM
On the other side, BIM collaborates with all personnel in a construction project on a larger scale. BIM allows personnel to spot any issue or error before the projects enter into the construction phase. As a growing trend, it has led to significant cost savings in the industry. It allows the entire workforce in a given project to use a single digital model to plan, manage and monitor the progress.
Is It Possible to Convert CAD Designs to BIM Models?
In electrical and mechanical engineering, computers have been used in the design process for a variety of consumer products, from televisions to automobiles. However, in other fields besides electrical and mechanical engineering, the technology is still not as widespread.
While BIM is used in designing and manufacturing buildings, its use in terms of designing and manufacturing infrastructure has only recently gained traction in the industrial markets. It is now possible to build intelligent buildings and manage their supply chains with BIM. Using it to design infrastructure is still in its infancy but growing by the day.
However, it is possible to convert CAD designs into BIM models for more significant construction projects. As compared to CAD, the BIM model has the following features:
With BIM, it's appropriate to work on five different areas, including width, length, breadth, cost, and time.

BIM models are comprehensive enough to provide an in-depth deconstruction knowledge and data analysis.

BIM modeling makes it easier to cover the whole project lifecycle from the start to the end – designing to construction and destruction.

With a BIM model, you can have an estimated schedule of every construction stage that gives you an idea of cost beforehand.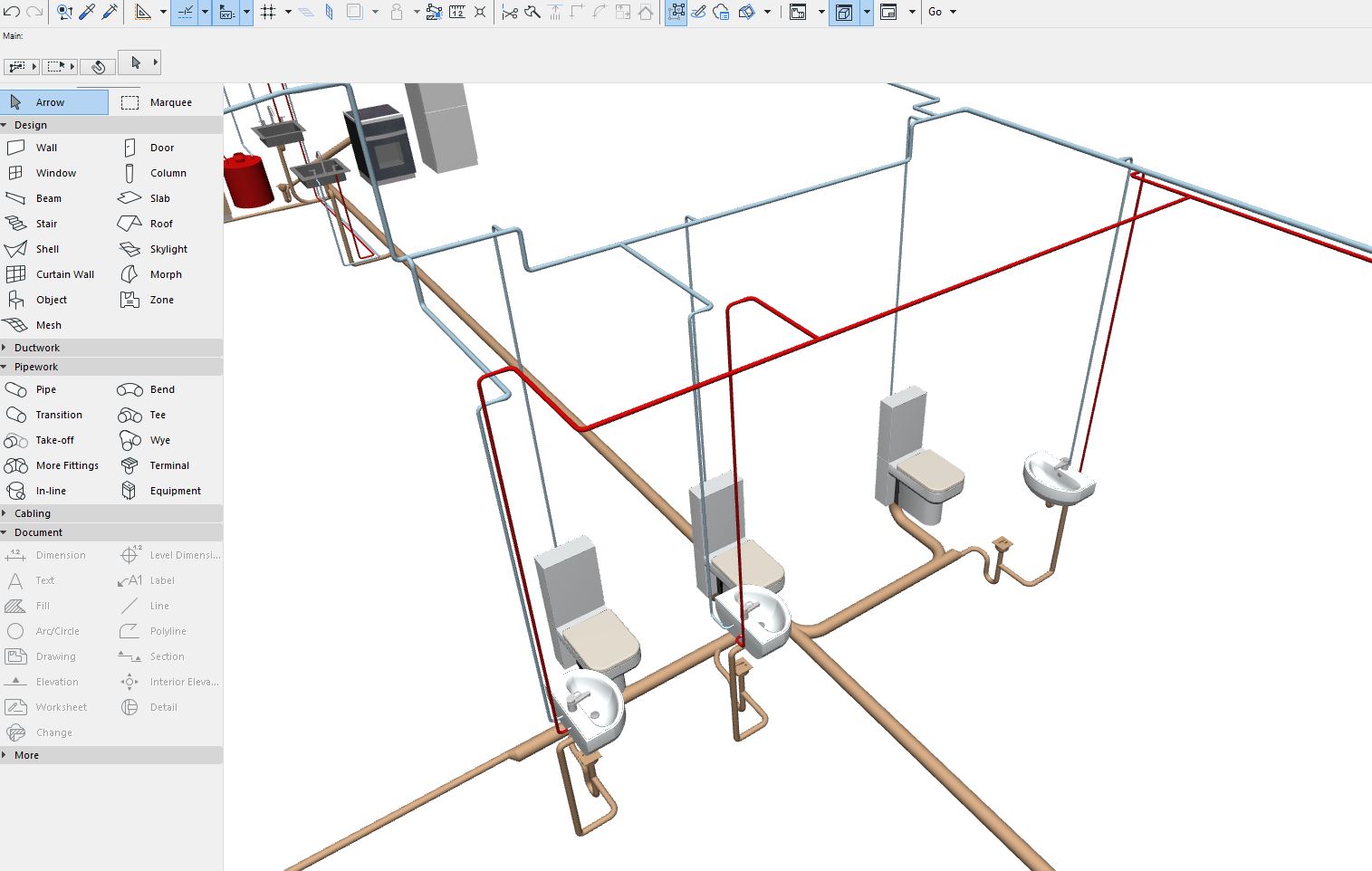 ArchicadTeam's BIM Modeling Services
We are an experienced Archicad design agency. Our designers are well-versed in using all versions of Archicad to produce high-quality work.
Our office is in Lithuania, but our reach extends to Chicago. We're an architectural firm that has experience with projects of all kinds. We learn the ins and outs of this ever-changing industry while putting our personal touch on every project we work on–from a minor residential job to large-scale commercial developments.
We ensure that your files are compatible with other software. This way, you can use our products for any service you might need in the future.
Our team of BIM specialists can help you analyze your needs and deploy the right technology for your company. We assure you that working with us will save you time and money by avoiding costly mistakes.
BIM Modeling Services Using Archicad and Revit
At ArchicadTeam, from the detailed design phase to the implementation phase, we use Archicad and Revit to create an efficient workflow.
Using BIM modeling tools, we can provide the client with the structural model and models of the building's mechanical, electrical, and plumbing systems; site terrain models with landscaping modeled in great detail (LOD – 100, 200, 300, 350).
We take the headache out of the design modeling process. By using our cloud-based technology, you can upload your 2D DWG drawings, and we can convert them into 3D BIM models.
Solibri Model Checker: ArchicadTeam's New Model Quality Control
We have introduced a quality control process for Archicad models to improve our service. This is a new policy where Solibri Model Checker will check the model. Solibri Archicad model checker will help us deliver better service based on service improvement policy to provide stable and good quality models to our clients.
Our service policy is based on improving Archicad model quality, and we want our clients to feel safe that they could avoid double-checking our models before using them for projects.
Our cutting-edge clash detection tool is highly intuitive, making it easy to work with even the most complex BIM models. We can also provide instant data mining of BIM models and produce Solibri model checker reports based on user needs.
Advantages of Outsourcing ArchicadTeam's BIM Modeling Services
Outsourcing BIM services, which uses Building Information Modeling to develop a building's design, can be a boon to any contracting firm. Some forty percent of contracting companies outsource some BIM work. The following are the benefits you can reap by outsourcing BIM modeling services at ArchicadTeam.
Greater Chances of Improved Productivity with BIM modeling services
BIM outsourcing increases your chances to get projects done on time, with greater cost-effectiveness and efficiency than you could achieve yourself. It will give you access to a team of experts, with a sole focus on core competencies, who are genuinely the best at what they do. This will help you overcome challenges related to project deadlines, limited workforce, and operations complexity.
Proper Communication and Distinct Collaboration
Whether you're looking for short-term or long-term outsourced talent, a proven working process can help you seamlessly collaborate with anyone, anywhere. Instead of worrying about miscommunication and letdowns, your focus will be on delivering outstanding results.
Concerns about quality fall away when you select an experienced team. They can handle your emergency, schedule your projects, and increase efficiency.
We focus on the right partnerships, with excellent communication and follow-up, so you can rest assured that every project under our wings is taken care of faithfully and diligently.
Shrunken Risks and Lower Costs
BIM is a powerful technology that allows you to plan and design with greater precision and efficiency. With BIM modeling services, you can avoid expensive and time-consuming mistakes that often occur when even experienced professionals make bad decisions.
It creates a better overall return on investment while helping you lower your operating costs sustainably. You will have greater control over your BIM services, which means you'll be able to scale up when the demand rises.
Benefits to the Client
At ArchicadTeam, we don't just offer stellar architectural design and 3D modeling solutions—we want our clients to have a healthy, happy, and successful experience too. Our professional architects and designers are experienced in providing diverse solutions that meet your short-term objectives while preparing you for the long term. We work with you to identify unique challenges and maximize opportunities throughout your project.
Our BIM Modeling Services
Here's a brief description of our offered services related to BIM modeling.
Building BIM Modeling
Our drafters can convert your sketches into accurate architectural drawings in architectural BIM modeling services, either AutoCAD or Revit format. Depending on the job, we can draft details, build schedules, interior or exterior scenes rendering, etc. According to your needs, we can convert a picture or an existing 2D drawing to a 3D Revit or Archicad model.
We believe that building information modeling (BIM) survey data will one day replace traditional 2D survey data. A BIM survey offers much more detailed survey data than conventional 2D survey information.
A wall cannot be constructed as a simple two-dimensional line drawing when working in BIM software. You build an intelligent model where each item is created from its own family with specific properties.
Additionally, our technicians can produce Archicad or Revit models for already present buildings. However, the structure can be a stadium, building, house, or warehouse.
BIM Object Modeling
At ArchicadTeam, we can eliminate the problem of object integration. We can help develop qualitative Archicad or Revit BIM objects. Personnel can access it quickly in a central location—that contains all the necessary visuals, material, and product data for building product visualization.
It means a product or brand that can show a particular characteristic and function of the product to the public, which will enable people to understand the product better. To illustrate the functional and quality aspects, you must obtain in a design.
Terrain Modeling
CAD operators can create Archicad and Revit terrain models from 2D DWG drawings or blueprints—and we can convert your existing CAD files to these programs. We have specialized drafters to convert your CAD data into precise, dimensionally accurate PLN, PDF, DWG files. Using our BIM model, you will continue further development on the project more quickly. We also have a terrain model which allows you to present in-depth features of your building site.
MEP Modeling
Our Archicad technicians can help you build MEP models from the two-dimensional data supplied by engineers. These models let you visualize your MEP systems and spot possible collisions before they happen.
We can integrate your architectural models into your MEP models to ensure structurally sound. Additionally, based on the complete model of all your MEP systems, we can run a collision detection test between your engineering and architectural design.
Get an Instant Quote for Tailored BIM Modeling Services
We have a transparent pricing structure with no hidden charges. We will provide a detailed breakdown of the project scope with an inclusive quote. Also, you can make use of our hourly pay rate (20 €) if your project is open-ended.
You can outsource ArchicadTeam's BIM modeling services now at a click of the mouse. Feel free to get in touch in case of any queries.
In a Nutshell
Building Information Modeling is a great technology – but not everywhere. BIM comes with high costs and significant delivery challenges. And the people who need it most – small and medium businesses – don't know where to turn.
Why does construction keep getting more expensive and slower? It's time for an answer.
ArchicadTeam is now at the center of the revolution transforming digital construction. By bringing BIM to those that need it most, we're quickly becoming the go-to provider of services such as 3D modeling, BIM consultancy, and much more.
---
We provide an up-front quotation on the complete project so you'll know the total cost without any surprises. If the project is open-ended then the standard hourly rate will apply. Either way, you are in control of the cost up-front, so no surprises.
---
Related services:
---